Carla has been with South Fraser SAR for 21 years. She plays many roles on this team including Ground and Inland Waters Team Leader, Swiftwater Rescue Technician, Organized Avalanche Team Member, Boat Team Member and Captain, Hover Entry and Exit, Emergency First Aid First Responder, among others.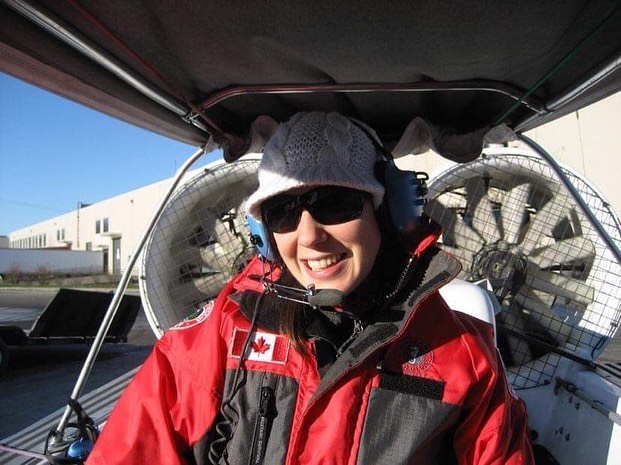 Why did you join SAR?
To expand my volunteer pursuits and develop my skillset in a plethora of areas, that were transferrable to my outdoor pursuits, my career and my community.
How has SAR impacted your life?
My dedication to SAR has given me opportunities to help families in need with a host of professional skills, it has connected me to a network of simply outstanding peers, opportunities to mentor exceptional young people, and given me balance. I have been so lucky in this life, SAR gives me great opportunities to give back to those who need support.
What do you do outside of SAR?
I love mountaineering with my dog, kayaking, riding motorcycles, ATVing, fishing, travelling, home renos, entertaining friends and family, and adventuring with my outgoing boyfriend and his curious and fun loving little boy.
What's the best advice you were ever given?
"Life isn't fair, especially as a girl/woman, you just have to grab on tight to opportunities as they open up. When one door closes, five others open", My Dad. "And sometimes you just have to hurry up, pull up your big girl panties and get on with it. Move forward", My Mom.
What is something you're very good at?
Connecting with people and working hard.
What's something you've done lately that was worth remembering?
Spent some long days in challenging conditions with a great team, doing our absolute best, to find someone's loved one.
Any final words?
SAR isn't for everyone, but for those who are fit, have skills that they want to continue to develop, a good relationship with life and death, and want to give back to their community there are few better volunteer organizations. It should definitely be considered as a way to grow as a person and I encourage more people to learn more about it.