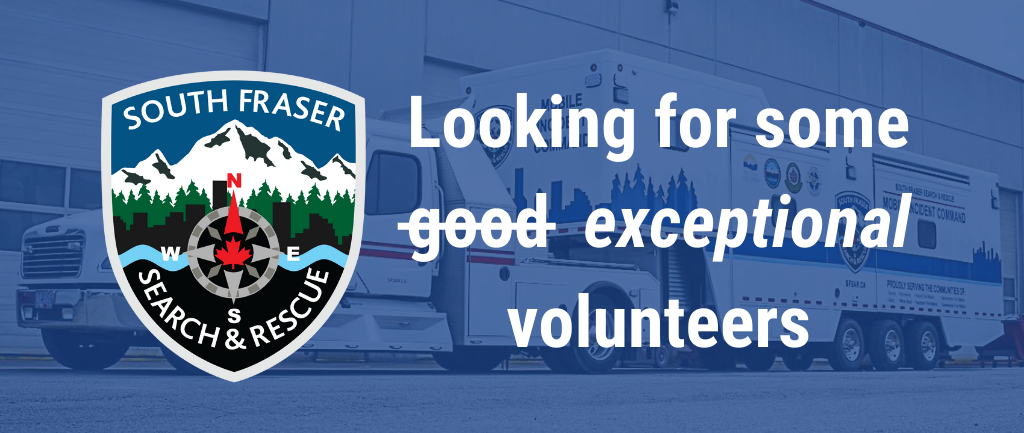 We have closed our active / field member intake process on July 5/2023 and are moving forwards with applications received. Applications received on our website will be held on file until our next intake which will likely not occur until Fall 2024 at the earliest. We will contact you then. If you are an individual who has a BC GSAR certification (such as moving from another team into our area) please contact us at [email protected] to discuss options.
Application form link are at the bottom of the page. Please read all of the material to get a better understanding of what you are applying for.
Types of volunteers
Our volunteer base is comprised of two main categories. We couldn't function without either!
Operational / Active Members are deployed on SAR operations and respond to callouts. They undertake a 70 hour training course to complete the provincially recognized Ground Search and Rescue course at the Justice Institute of BC among other things.
Associate members are active, just in other ways! They help the team in a wide range of areas including finance, fundraising, equipment maintenance, training, public awareness and others. They are welcome to participate in training but are not expected to attend search and rescue operations.
Answering the Call
Search and Rescue volunteers play an important role in helping individuals, families and communities, often during difficult and sensitive situations. Those considering membership in SSAR must be:
Compassionate
Empathetic
Sensitive
Non-Judgmental
Level-Headed
Team-Oriented
Safety Conscious
Tactful
Able to Deal with Difficult Situations
Application Process
Although applications are accepted year-round, membership intake generally occurs once a year with successful applicants being invited to a field day where we assess team dynamics and more. The interview is followed by an interview.

Selected applicants are then offered conditional membership as Members in Training (MITs) and are required to:
Complete an Online Introduction to SAR in BC Course (7 hours)
Complete the In house Ground Search and Rescue Course (min 6 months and 70 hours)
Attend regular training (Thursday evenings with occasional other days)
Have or obtain a minimum 14 hour First Aid Certification (all members are required to maintain at least this level of certification)
Have a minimum attendance at operational tasks before applying for Active Member status
Time Commitment for field members
Search and Rescue is a considerable time commitment. Members are expected to commit at least 100 hours per year (more in the first year for additional training.)
You will be expected to participate in public relations events (such as Canada Day booths, delivering AdventureSmart outdoor safety presentations as well as equipment maintenance and fundraising.
Prospective K9 Dog Handlers
Please take a look at the BC Search Dog Association website – at a minimum you will need to complete the GSAR program and be a member of a BC GSAR team for 2 years prior to being considered for support as a dog handler. We are unable to consider handlers outside of this policy.
What SAR is
You may have seen video and news stories about SAR predominately involving helicopters and individuals being slung from them. This represents a small fraction of SAR activity in BC. The vast majority of our calls are searching urban areas (think greenways in Surrey, the dykes in Richmond, or the Mud Bay trail for examples) and do not involving helicopters, driving with lights and sirens on etc. Common subjects are seniors with medical conditions, persons with special needs etc. On occasion we may assist teams throughout the province with missing hikers/hunters etc but that is not our "bread and butter."
A common search is looking for a senior who has gone missing at night – checking urban green-spaces and parks…
Minimum Basic Requirements
The minimum basic requirements to join South Fraser Search and Rescue are:
19 Years of Age
Physically Fit
Valid First Aid Certificate (Minimum St. Johns Standard First Aid or Higher)
Valid Class 5 BC Driver's License
Ability to Travel Safely in the Lower Mainland in All Weather
Basic Outdoors and Survival Skills
Knowledge and Experience in Local/Regional Areas, Parks, Trails and Mountains
Personal Survival Equipment (Minimum 24 Hour Survival Pack) and Basic Outdoor Gear
Home/Employment Situation That Allows for Call-Outs 24/7/365
A Commitment to a

Minimum

2 Years Service
Ability to Complete All Required Training
Live within a reasonable driving distance of Delta, Richmond, Surrey or White Rock (we have members in Vancouver and Langley for example) – basically an hour's drive or so.
Additional Skills that are great to have
(if you don't have them, we will train you!)
In addition to the above minimum requirements, SSAR looks for individuals who possess skills that can help the society grow. SSAR members serve not only as searchers but also as representatives of a non-profit organization run entirely by volunteers.
Advanced First Aid Certification
Pleasure Craft Operator Certification / Small Vessel Operator Proficiency (or greater)
Experienced Radio Operators
Experienced Skiers, Rock/Mountain Climbers, Snowshoers and Outdoor Enthusiasts
Individuals with Accounting and Financial Expertise
Individuals with Administrative/Office Skills
Individuals with Supervisory and Leadership Skills
Individuals with Public Relations and Advertising Experience
Individuals with Teaching, Training and Education Experience (All Ages)
Individuals with an Extensive History of Volunteering
Individuals who can communicate in multiple languages
SSAR thanks all applicants for taking the time to inform us of their interest however only those selected for an intake interview will be contacted.
Select this if you want to be on the "pager list" and respond to tasks
Select this if you want to help the team, but don't want to be on the "pager list" and respond to tasks